My car got smashed!!! :-(
and not the usual way.
The car was parked near Old Sacramento minding its own business when a horse spooked and ran down the street right over the top of my car...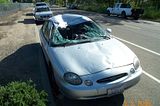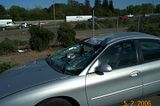 The horse belongs to a horse & buggy operator for tourists, something spooked it and it bolted. Fortunately, the horse will be fine, just needs some stitches.
Another photo taken by a co-worker that shows the roof damage...