Point Mugu State Park - Boundary Survey
This is at Point Mugu State Park on the Pacific Coast between Oxnard and Malibu. In 1969 State Parks Surveyors found a sandstone marked with 3 notches on the south and 5 notches on the east at the corner common to Section 17, 18, 19 & 20, T1S, R20W, SBM. We found the stone today...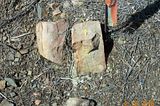 The south face.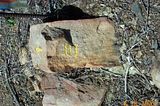 The south face again.
The top.
Views from the stone...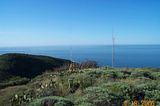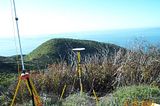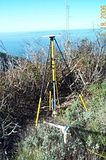 Looking southerly.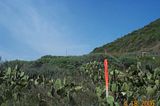 Looking north (we lined in 12" spikes with lath)
A view looking upcoast (west) towards Point Mugu NAS...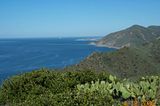 Caught a Coast Guard helicopter flying by...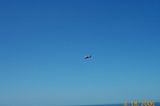 The reason we are here is the CHP, Caltrans and Parks shares a repeater facility...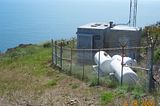 We have a legal description in an interagency agreement for the transmitter. The description covers a spot on the side of a loose, mudstone, hillside at about 1:1 slope and uphill 500' or so. We mapped where the transmitter actually is and put some line points on the State Park boundary in the area so the facility can be upgraded but all the new improvements kept on State Land.
Here I am floating up to a higher intellectual plane while Neal (LS) does the grunt work of improving the sky view at the stone. I wanted to set a rebar at my calc'd point but Neal wouldn't let me :-(. He said we should hold the stone where it is...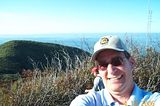 Here's a 2nd order tri-station reported "believed to have been destroyed by highway construction" by the NGS in 1976. I submitted a recovery today, we found Pacific EW7762. I knew it was there for two reasons, 1) we have notes in an old field book from 1982 that the station is there but the disk is missing and 2) it looks like it's out of the area of highway slope construction on the aerial photo (it's nowhere near any construction in fact)...